China Doll Laser Facial
(Carbon Laser)
Our clients can't get enough of the China Doll Facial! Originating in Asia, this "lunch hour" facial has become wildly popular by celebrities in Hollywood. Don't go another day with large pores, a dull complexion or fine lines. This refreshing laser facial will enhance the skin's radiance and produce a smooth, tighter texture with zero downtime.
After a thorough cleansing, a thin layer of premium grade carbon lotion is distributed to soak into the skin; attracting bacteria and free radicals. Gently energy bursts are then applied to disintegrate the carbon while dissolving bacteria, kick-starting collagen production and tautening the epidermis.
Finish off this premium facial with a cooling mask and/ or stem cell cytokine infusion for a one of a kind experience.
The many benefits of this procedure include:
Shrinks pores
Reduces fine lines
Tightens skin
Smoothes texture
Kills bacteria
Devours blackheads
Encourages collagen production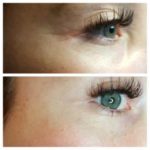 Immediate improvement in skin texture, tone and firmness will be noticeable. Pore size and fine line reduction will be evident within 2-3 days. Though results will be enjoyed with just one session, maximum benefit may be achieved with multiple sessions.
Schedule an appointment or free consultation today!