The New Canvas is now offering advanced skin therapy services with the use of Microdermabrasion, Ultrasonic and High Frequency technologies. After a thorough skin analysis, our licensed Medical Aesthetician will perform a signature treatment customized to meet your individual skin care needs. With just one treatment you will notice a significant improvement in the overall appearance of your skin, however, multiple treatments may be required to treat significant skin eccentricities.
Our male and female clients are raving about the results they receive. These non-invasive methods require zero down time and provide a non-surgical approach to treating the skin eccentricities that many of us face.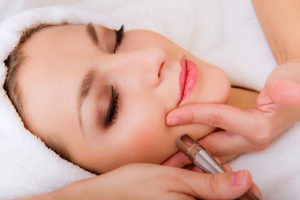 Microdermabrasion (Diamond Peel) – A chemical free, non-invasive skin rejuvenation procedure using the combination of a fine diamond tipped wand and gentle suction applied to the skin. Microdermabrasion is often described as the feeling of a cat licking the skin- a rough but gentle texture that leaves the skin radiating with a healthy glow.
Microdermabrasion may help diminish the appearance of superficial hyperpigmentation, and photo-damage, as well as diminish fine lines, wrinkles, dry patches and uneven skin tone. A further benefit of microdermabrasion is the reduction of blackheads and pore size, shallow acne scars and calcium deposits.
In what cases is microdermabrasion used?
– Reduction of thin wrinkles and facial lines
– Reduction of hyperpigmentation (darker patches of skin)
– Reduction of sun spots
– Reduction of thickening or dry skin
– Skin roughness reduction
– Acne scars and skin wound scars reduction
– Cleansing and fat content reduction of oily skin
– Anti-aging and skin tonus boost
– Blackhead removal
– Minor post-surgical scar removal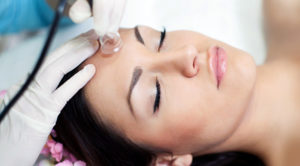 High Frequency – A unique electrical energy used to produce an argon gas into a glass electrode. When the electrode current is conducted with the skin it emits a mild, high frequency current called ozone. High frequency produces a light, prickly feeling that causes a rush of blood circulation to the treated area as well as gentle warming of skin tissues. Since underlying blood vessels are made to contract, toxins are pushed away while, simultaneously, skin cells enjoy increased nutrient supply and hydration. All this ultimately results in improved blood circulation, cell renewal and increased production of collagen.
In what cases is High Frequency used?
– Treatment of active acne
– Treatment of razor bump infection
– The normalization of combination skin or T-zones
– Correction of overactive sebaceous glands (oily skin)
– Decongest puffy eyes
– Fade dark circles under eyes
– Reduce fine lines and wrinkles
– Rejuvenate tired, distressed skin
– Reduce the appearance of cellulite
– Breakup dead skin cells
– Improves lymphatic drainage
– Tightening of skin
– Stimulation of hair growth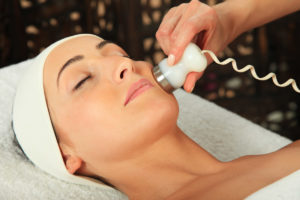 UltraSonic Facial (USF) – A progressive, ultra-gentle skin reviving application, employing the use of sound waves moving at 28,000 beats per second to heal and revive the skin. USF is described as a relaxing micro massage that deeply cleanses the skin, allowing deeper penetration of topical ingredients.
In what cases is ultrasonic used?
– Exfoliation of sensitive skin
– Gentle enough for thin or aging skin
– Tightening of loose skin
– Decongestion of clogged pores
– Reduction of under eye circles
– Relief of inflamed skin
Pricing:
An individual or customized combination of the following Skin Therapy Services: Microdermabrasion, Ultrasonic and/or High Frequency
Each $99
Or 3 for $269 ($30.00 savings)
Includes a custom mask using the finest ingredients, minor extractions and hot and cold massage
** Introductory price $89**
The New Canvas Signature Facial
$79.00
Includes a 45 minute deep cleansing treatment, minor extractions, custom mask and hot and cold massage